F*ck money, f*ck fame, b*tch we're mediocre.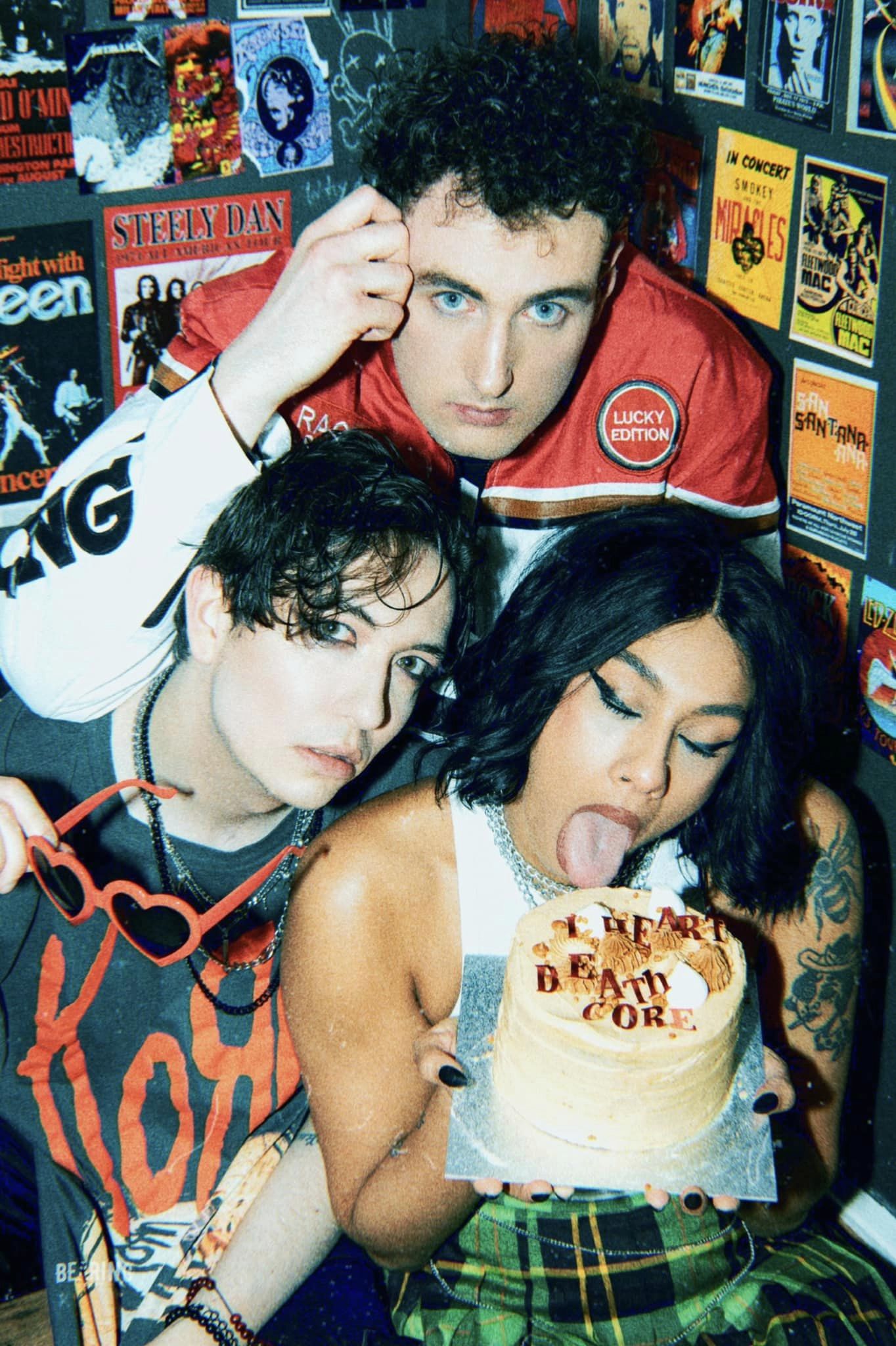 gürl are antipop.
gürl are ANTIPOP: Froot Loops and butcher knives, bubblegum and razor blades, and fashion posing as music, all wrapped in diva choruses with heavy guitars, rock drums and trap production. Think Ashnikko meets Loathe and Billie Eilish meets Bring Me The Horizon, but drenched in a magnificent shade of pink. The result is dangerous, it's glam, it's heavy, it's camp, it's sarcastic, it's narcissistic, it's ironic, and most importantly, it goes hard.
After cracking 1,000,000 streams and gaining incredible support from BBC Radio 1 and Kerrang! Radio, you'd be forgiven for thinking gürl might want to play it safe with HEXY, their first single off their upcoming second EP, Parma Violence.

You'd be far off. The new anti-pop trio are here to shock and seduce with their nastiest release to date. 'HEXY' shows the band's darker and edgier side, but, in typical gürl fashion, tongue in cheek. Or rather, tongue in fang.
This hernia-inducing nu-punk anthem redefines the bleeding edge of alternative music and sits somewhere between Nova Twins, Bring Me The Horizon, Ashnikko, and Beastie Boys.
Stream HEXY now: https://fanlink.to/Hexy
HEXY follows the gürl's outrageous debut EP, OUIJA, and a series of singles, including the smasher 'ANTIPOP', subsequent rebel anthem 'Gucci, Honey, Dirty Money', and radio anthem 'Crying In Nightclub Bathrooms'.
Bio
The Bristol-based outfit was founded by two bois on the condition that they would be called gürl, offering a cynical reflection on music marketing by choosing a name that 'cool people' would wear on a t-shirt. They started out with neo-soul but soon found that they could (and should) go much harder, combining outrageous lyrics, stadium-sized riffs, heavy-hitting drums, and irresistible basslines, all glued together by tasteful (but never meek) trap elements.
'I can't just be loved, I need to be eaten': vocalist and lyricist Joshua Dalton cares about words and means what he says. Following his father's death, he found his road to Damascus by realising that each time he found himself in a dark place, he turned to music: 'Every fight, every sleepless night, every break-up: music is this unrelenting, limitless, untameable source of joy.'
Guitarist Jonny Turner thinks about little other than, well, playing the guitar. The co-founder, co-writer and co-producer alongside Joshua has honed his skills in countless bands and shows, learning to translate electric shocks received while playing rural Romania bars directly into the energy he now projects on stage.
Joining the gürl group in the scorching summer of 2022, Jay Parker turns up both temperature and volume with four strings plus attitude. Creative from the get-go, she received her first guitar (a pink baby strat, of course) as a backcombed, eyelinered, skinny-jean-wearing teenage scene kid – a gift from her parents, alongside early inspiration ranging from Missy Elliot to Green Day and Pink Floyd. Though Jay has since graduated in fashion communication and also shines as a model, stylist, photographer, baker, and connaisseur of salty snacks, her calling is and has always been music, with all the sweat, tears, and blistered fingers that come with it.
gürls, gürls, gürls:
Joshua.

I can't just be loved, I need to be eaten.

Jonny.

Have you got something French?

Jay.

She splits the crowd and eclipses the sun.